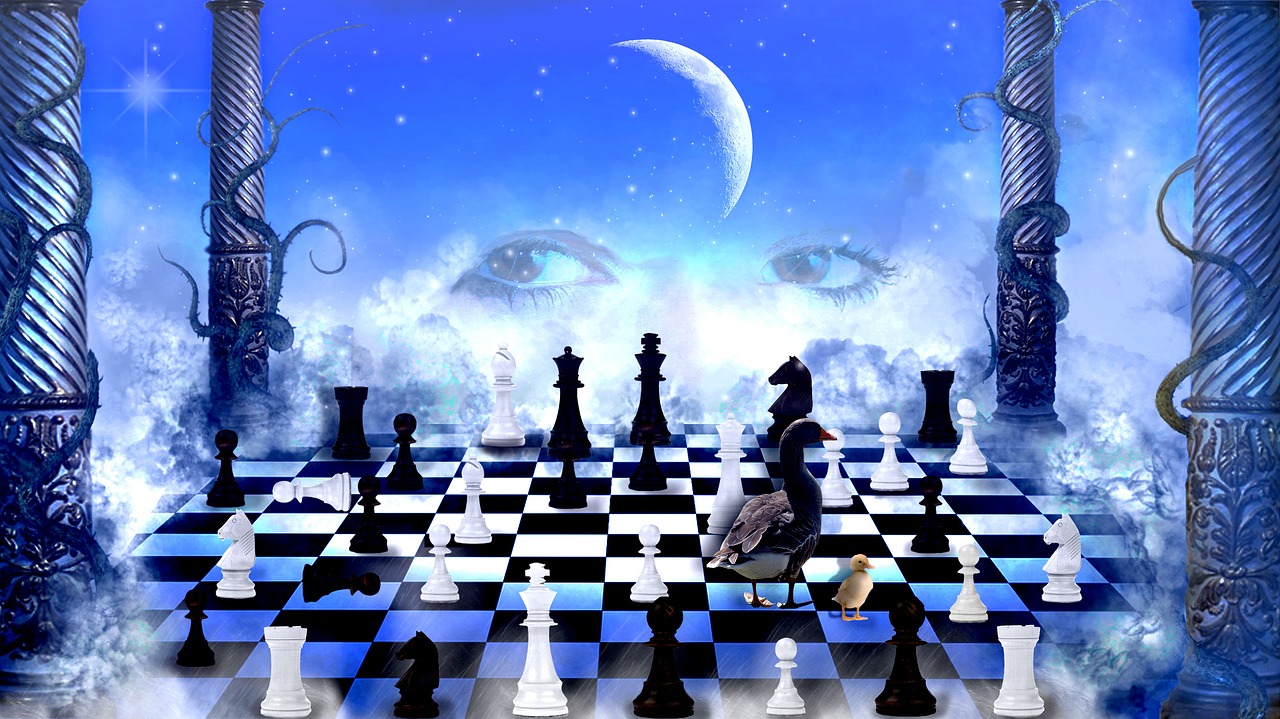 I don't know if you've noticed but things are kind of a mess right now.
Our society is in chaos.
The secular world is splintering in a thousand different directions.
[pullquote]The message of the cross will never be irrelevant. But that doesn't mean the Church isn't in danger.[/pullquote]
Christianity is being steam rolled by an aggressive and growing anti-Christian movement while we struggle to keep the American society, as we know it, intact.
A recent headline stated that Christians are now the minority in the US. However, a careful examination of the article reveals they are actually talking about the shrinking percentage of WHITE Christians;… as if the color of a Christian's skin is relevant.
Of course, it isn't relevant at all but that really wasn't the point of the article. The goal of the headline was to promulgate the notion that Christianity is becoming more and more irrelevant in our society.
What's true is the health and reputation of the Christian community is at an all-time low.
Also true; we have very real enemies and they are becoming more and more organized in their efforts to de-legitimize the place of Christianity in our nation.
In America, the scales used to weigh heavy in our favor. Today, that is no longer the case. We are seen as the enemies of social justice, oppressors and haters.
Many Christians believe that public protest with picket signs or caustic commentary on social media is the way to defend the ideals of holiness, without recognizing the damage they do to the reputation of Christ in the process.
Imagine we are playing a game of 4D Chess.
In a regular chess game our enemy is in full view right before us, and the playing field is level.  But in 4D chess, the battle is taking place above, below and out of plain view, simultaneously.  This requires a much more nuanced strategy in order to play the game well.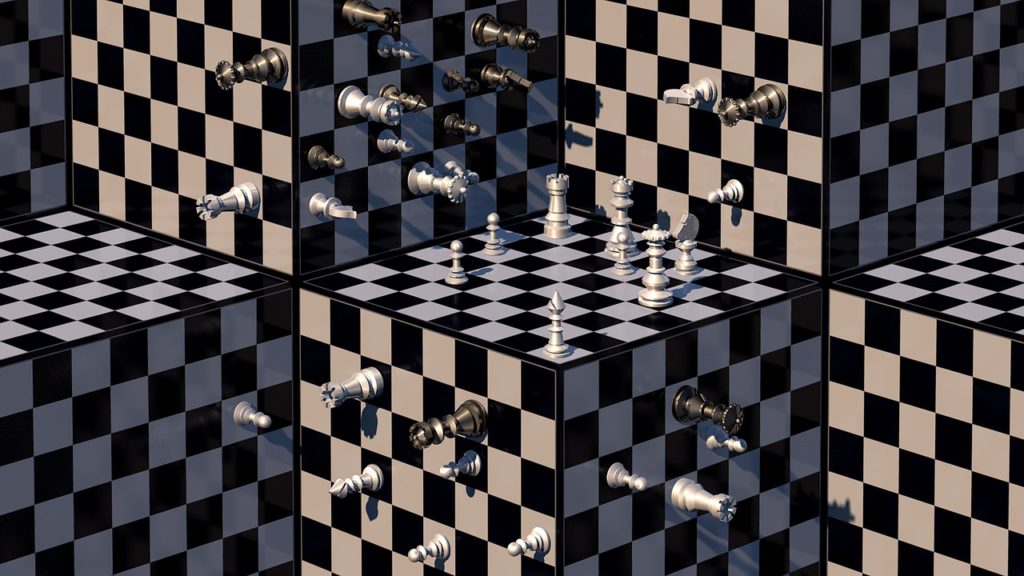 Personally, I've never mastered anything more strategic than hop scotch. But I can at least imagine the 4D chess board enough to use it as an illustration.
On the Level One
…we have a society of unbelievers who see any constraints on their personal behavior as a violation of their freedom. They see religion as an arbitrary set of rules that don't apply to them. I think this may be true in some cases, but there seems to be a lot of Christians who genuinely believe everyone should be legally forced to live up to our standards of morality. Their response, when our values are rejected, is to become combative against all ideas that fall outside their Biblical worldview. Consequently, on Level One, we have a bulwark of angry Christians doing hand to hand combat against the things they believe to be sin…OUTSIDE the Church.
Rather than demonstrating God's Grace, they get in ugly online disputes with unbelievers and come off looking like bullies with bibles. They don't ever change anyone's mind and they don't lead anyone to the saving Grace of Jesus Christ. So, this begs the question… What good are they doing? What impact is it having on our reputation?
On Level Two
…we have an awful lot of of Christians who attend church regularly, but never seem to go beyond an entry level understanding of Christian doctrine or what it actually means to be a disciple. Many are proud of the way they straddle the Christian and secular worlds. They take care not to bring their religious worldview into public discourse because they honestly don't know enough about doctrine to defend it should they be challenged. Because of this, they graciously acquiesce to the public and political encroachment against religious freedom or it's expression in public spaces.
It's here on Level Two, our enemy is doing his best work. satan is slowly and methodically working through government and secular groups to take more and more ground away from Christians. Sadly, Christians on this level don't seem to recognize what's happening. They don't see what's so wrong with taking "In God We Trust" off of government buildings…or our currency…or  removing "One Nation Under God" out of our Pledge of Allegiance. They don't see that the end game isn't to level the playing field between the religious and secular societies, it's to render the Church and our God completely irrelevant and powerless in America.
Consider how much our culture has shifted in the last 25 years.
Children are aggressively discouraged from wearing t-shirts with religious messages on them to school
Teachers are forbidden from wishing their students a Merry Christmas
A coach was recently fired for praying on the field before a high school game. This was despite the fact that there were no students present during the prayer.
A junior high Jewish student was sent home for wearing a Star of David necklace because the principal said itwas a gang sign.
[pullquote] The once revered line, never crossed before, just keeps getting moved forward.[/pullquote]
On Level Three
…there are a LOT of Christians and almost NO opposition. You would think this was a good thing but it isn't really. These are devoted, Bible believing disciples, but the only community they engage in is comprised of the people in their church. They are usually lovely people and great neighbors, but they don't share their faith or their lives with non-Christians. That's why there is so little opposition on this level.
They care very much about keeping Christian values in the fabric of our society but trust the "professional" Christians to advocate on their behalf. They can't fathom an America where religious expression could become against the law.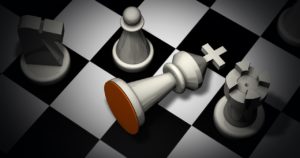 Finally, Level Four
…This level is a hornet's nest of activist atheist and secularist. These people are strategic, goal oriented and they are in it to win it.
In their opinion, dismantling the Judaeo/Christian framework in America will make the world a better place. They are exploiting our every flaw and weakness  (sadly, a target rich field to choose from) and promulgating the notion that Christians should be barred from holding public office due to their religious bias.
This 4D Chess game has shifted our culture in a million little ways. It's a game of inches. And we are losing.
It's essential that we examine the reasons why so we can turn things around.
Reason #1
There is an old saying, "If your friends and co-workers don't know you're a Christian, there is a pretty good chance you're not one."
[pullquote]Notice the command to love your neighbor did not include quoting scripture to correct the sins of your audience on social media.[/pullquote]
Raise your hand if you've ever had an awful neighbor who was proud to say they were Christian?  (I just know that if I could actually see you all, I'd see a whole lot of hands up in the air!). DON'T let this be you! Not ever.
The Bible teaches us "Do nothing out of selfish ambition or empty pride, but in humility consider others more important than yourselves. Each of you should look not only to your own interests, but also to the interests of others.… (Phil 2:3-4).
That ought to settle about 99% of neighbor disputes without any further consideration. What we believe does NOT make us more important and it certainly does not give us any reason to treat the people around us with contempt.
Being a good neighbor isn't a moral absolute for a non-Christian, but for us it is a COMMAND.
"Do not seek revenge or bear a grudge against anyone among your people, but love your neighbor as yourself. I am the LORD." (Lev 19:18)
'…Love your neighbor as yourself.' There is no commandment greater than these." (Mark 12:31)
"For the entire law is fulfilled in keeping this one command: "Love your neighbor as yourself." (Gal 5:14)
And, for the record, your "neighbor" is A: Your literal neighbors where you live. And also, B: The people next to you wherever you stand at any moment of any day.
If we want to reach the world (aka 7.442 billion strangers) with God's Love, we have to demonstrate God's Love with everyone we meet.
Reason #2
Have you ever been on the raw end of a bad business deal with someone you knew was a Christian?
A very dear friend of mine had a business partner, whom SHE MET IN CHURCH, fleece her elderly mother out of her entire life savings. Now, for the rest of her mother's life, she has no choice but to depend on her daughter for support. Meanwhile the guy who ripped her off is still promoting himself as a "Christian Businessman" to his unsuspecting clients.
It doesn't help our cause to simply say a guy like that "isn't a true Christian".  He's going around town representing himself as a Christian — representing YOU, ME and our precious LORD!
What can we do?
Our only defense is to make sure we are WONDERFUL representatives of Christ in our families, our neighborhoods and our workplaces. It's our JOB to make a POSITIVE impact on everyone we meet.
Rather than allowing ourselves to be silenced we must become even more visible, and increasingly more Christ-Like every day.
We must understand that God wants to use our commitment to Christ for the benefit of those who have not yet accepted Him.
"… You know how we lived among you for your sake. 6 You became imitators of us and of the Lord, for you welcomed the message in the midst of severe suffering with the joy given by the Holy Spirit. 7  And so you became a model to all the believers in Macedonia and Achaia. 8 The Lord's message rang out from you not only in Macedonia and Achaia—your faith in God has become known everywhere. " (1Thess 1:6-8) (emphasis mine)
If we are going to impact the world in the way Jesus asked us to, we have to be brutally honest with ourselves about where we fall short today and commit to doing better going forward.
We have to make sure our message is congruent with Christ's Love.
"A new command I give you: Love one another. As I have loved you, so you must love one another." (John 13:34)
The people all around you are people Christ died for. It should matter very much to us that they hear THAT message from us, rather than our scathing reviews of their "sinful" lives.
It was His kindness that drew you to repentance…not condemnation.
Let's stick to that message. It's the only one that works.
In His love and service,
Sharon Bollum