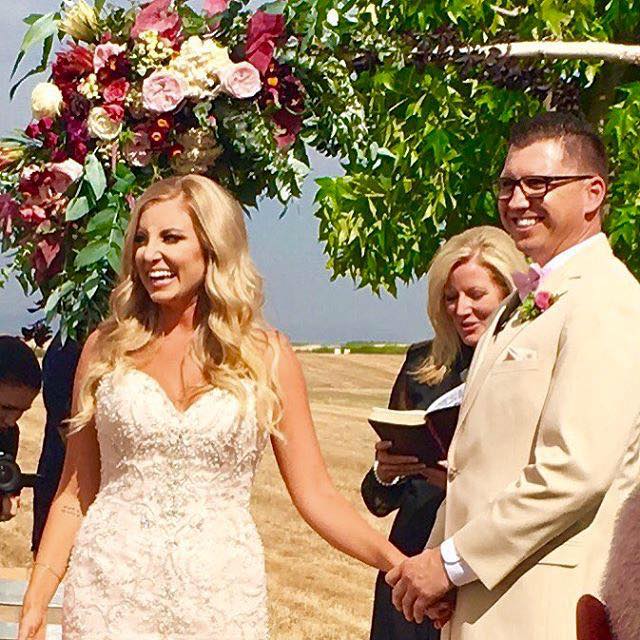 I remember the very first wedding I ever officiated. It was for a couple who were members of the church where I was on staff as a children's pastor. The request caught me off-guard.
I was surprised anyone would ask a woman to officiate their wedding. It was pretty unconventional at the time. I suppose it still is to some degree.
I'm not sure I would have chosen a woman to marry Mike and me back in 1982. That isn't terribly meaningful since the minister who did marry us also worked as an Elvis impersonator at the casinos down the road. That'll drop the perceived holiness factor down a notch or two, won't it? Go ahead. Take a moment to imagine Elvis saying, "Dearly b'loved, wer gatherd here t'day, tajoin thisman, and thiswoman inholymatrimony…" It takes you pretty far away from the sound of church bells, doesn't it?
In our defense, we didn't exactly choose the Elvis impersonator; he came with the wedding package we selected at The Love Chapel in Lake Tahoe, Nevada. Don't judge.
I doubt we would have objected had the officiant been a woman, I'm only saying we wouldn't have gone out of our way to find a woman officiant. So when I was asked to officiate it gave me pause. "Wouldn't you rather have the sr. pastor?" They said they couldn't imagine anyone other than me to officiate their wedding.
I was blessed and terrified in equal measure. I'm happy to report it turned out to be a beautiful wedding despite the fact that I was a woman. I must have done a pretty good job because two couples who were guests at the wedding asked me to officiate their upcoming weddings too.
Since then I've performed some fifty weddings, give or take a few. Eleven in my family alone.
[pullquote]
I'm happy to report it turned out to be a beautiful wedding despite the fact that I was a woman.
[/pullquote]
The first family wedding I did was for my niece. I would describe that wedding with one word: Awkward. I could feel the bad mojo in the air the moment I stepped forward. Most of the wedding guests seemed to be averting their eyes throughout the entire ceremony. When I prayed, I had the distinct feeling I was doing it all alone. After the ceremony not one person looked my way, let alone, shook my hand or said something nice about the service. Not one person spoke to me at the reception either. That was very unusual. I decided to ask my brother-in-law about it. "Is there some reason why no one will even look at me?"
"Yes." He replied flatly. "It's because you're a woman. As far as they are concerned, you had no business up there. We believe the Bible teaches that a woman should never assume a leadership role or pray out loud when men are present. We don't believe women are allowed to teach or preach or officiate weddings."
"Oh. I see. Well… why on earth would you put us all in such an uncomfortable position by having me officiate Tory's wedding?" I asked.
"It's Tory's wedding and you were Tory's choice. I wanted my daughter to have the wedding she wanted so I didn't object."
"Well, I wish you had. I don't like feeling as though I've just offended a hundred people in one fell swoop!"
In a subsequent wedding, the groom came from an ardent Catholic family. His mother was warm and friendly, but his father wore his disapproval on his sleeve. Not only was I not Catholic, I was a woman. It was an outrage! He shook my hand after the ceremony but didn't mince words when he told me that he didn't view the wedding as legitimate because it wasn't done by a priest. In a conciliatory tone he added that the ceremony was, however, lovely.
[pullquote class="left"]Not only was I not Catholic, I was a woman. It was an outrage![/pullquote]
Over the course of the next three years I officiated a total of five weddings for that same family. By the last one, the poor man had given up voicing his objection. He hugged me fully and thanked me for the great influence I'd had on his children. He still hoped they would return to the Catholic Church one day, but there wasn't much point in holding it against me. "After six weddings, how can I not treat you like a friend?"
That was about 18 years ago. I'd say I've grown comfortable with the role over the years. I love serving God and representing His Word this way and I genuinely love being a blessing to the couples.
Two weeks ago I officiated a wedding for one of my daughter's closest friends. It was on the beach in Lake Tahoe, Nevada just before sunset.
The 150 or so guests were mostly young people in their early thirties. I had a lot of fun engaging them in the ceremony.
Afterward, some of them approached me to tell me how much they enjoyed the ceremony. I love hearing that. I try very hard to make each wedding unique to the couple and it's gratifying when I hit the target.
I was just about to make my way to my car when an older woman and her husband approached me. The woman, walking just ahead of her husband, had a very serious expression on her face. She reached for my hand but didn't shake it. Instead she held it firmly with both hands.
Without smiling, she said, "I just have to tell you that when I realized my niece had chosen a woman to do the ceremony I was very disappointed in her."
I thought, 'oh boy, here we go'.
Continuing, she said, "I have been a Christian all my life and I have never believed God intended women to teach. I have never willingly sat before a woman pastor and that seemed righteous to me. So, when I realized you were the pastor I considered walking out."
"But, as soon as you began to pray, I could tell that God's anointing was on you. You invited God into our midst and gave Him all the glory. Then when you began to share His Word… well, I was so pleased!" A smile spread across her face and I started to relax.
[pullquote]"But, as soon as you began to pray, I could tell that God's anointing was on you."[/pullquote]
"I guess I never thought a woman could share the word in a way that would be so moving. … Well, I just have to tell you that… you have changed my mind and I felt I had to apologize for being so against you at first."
Feeling a little wowed but uncomfortable I said, "That's okay. There are a lot of people who don't believe in women leading in the Church. But, God's truth is the truth no matter who speaks it, right?"
[pullquote class="left"]
"I guess I never thought a woman could share the word in a way that would be so moving. … Well, I just have to tell you that… you have changed my mind and I felt I had to apologize for being so against you at first."
[/pullquote]
I leaned forward to give her a hug; partly to get my hand back and partly to put an end to the gush of praise. I never have been one to receive compliments easily.
But then she spoke again, "It wasn't just that you spoke God's Word. You ministered to this couple and everyone one of the guests. You gave them all God's beautiful truth. You put marriage into its proper context and gave it the meaning it is meant to have. I've been to a lot of weddings and I can tell you that this was the most meaningful ceremony I've ever heard. I just want to bless you and thank you for giving me a chance to see that I was wrong before."
I hugged her again and thanked her for being willing to share that with me. I told her I could think of no better compliment and I meant that sincerely.
For the rest of the evening I felt drenched with blessing. It's something akin to soaking in a hot, lavender scented bath surrounded by candles on a rainy day.
I'm going to stuff that one in my pocket so it will be there to comfort me the next time I am accused of "having control issues" or "usurping the authority of men" or one of the other not so complimentary things I've been accused of since accepting the calling God placed on my life nearly 25 years ago.
I have taken it on the chin quite a few times for being a "woman pastor" and I have no doubt I will again. I won't be surprised to see some critical comments from some who read this post. But, I was so blessed by the change of heart that woman experienced, I thought I'd share the story anyway.
We get so caught up in believing things can only be right if they fit inside our own little box. But God is so much bigger than the boxes we try to put Him in!
[pullquote]But God is so much bigger than the boxes we try to put Him in![/pullquote]
I serve at His pleasure alone. I am deeply humbled by every opportunity He gives me to serve and be a blessing to others in His Name.
The argument about women in ministry has been raging for generations. But, thank God there are many influential men and women in the Church who once believed the Bible prohibited women from various forms of ministry and leadership who have since changed their position. In his book How I changed My Mind about Women in Leadership: Compelling Stories from Prominent Evangelicals by Alan Johnson, you can read an unbiased presentation of the scriptures at issue and the perspectives that have shifted for many who once held a Hierarchical or Complementarian view.
I bet you've heard of at least some of the contributors to the book: Stuart and Jill Briscoe, Tony Campolo, Bill and Lynne Hybels, I. Howard Marshall, John and Nancy Ortberg and Cornelius Plantinga.
Whether you are for or against women in ministry I encourage you to read the book. We all benefit when we take the time to consider other points of view.
Honestly, it's awesome to have these people argue on behalf of women in ministry. God knows I prefer not to argue at all. There is no way to do it without coming off as self-serving.
I have one well-rehearsed line that I offer in response to those who criticize me for accepting a calling they believe is reserved for men alone.
I tell them, there are thousands of brilliant theologians, much smarter than you or I, who have studied the scriptures and arrived at different conclusions on the matter. So, how can you be so certain that your view is infallible? Everything I do, I do to glorify God. I am exceedingly happy to be used by Him in any way He sees fit. Ultimately, if it turns out I'm wrong I will take comfort in knowing that God judges the heart.
I have another wedding coming up in two weeks. I pray I will be a blessing to the couple as well as their family and guests. I will also pray that God's grace will be upon me, and if there is anyone who is against women in ministry in attendance, I pray they will have a heart and mind just like the woman at the last wedding.
In His Love and Service,
Sharon Bollum